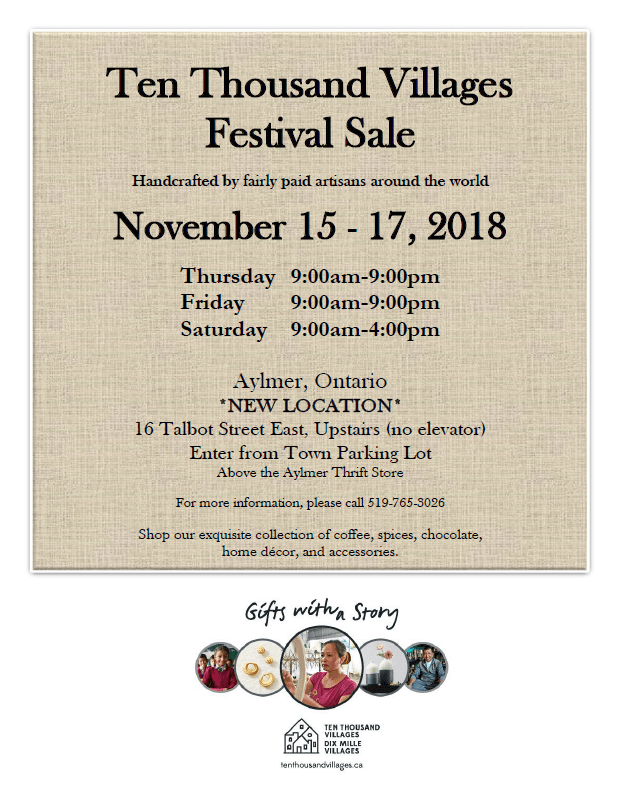 Shop our exquisite collection of coffee, spices, chocolate, home decor, and accessories!
The perfect opportunity to find unique Christmas gifts for friends, family, co-workers, or that special someone.
3 Days Only in Aylmer, ON
Thursday, November 15 …. 9am-9pm
Friday, November 16 ……….. 9am-9pm
Saturday, November 17 …… 9am-4pm
NEW LOCATION THIS YEAR: 16 Talbot St. E, Aylmer, ON UPSTAIRS (no elevator) Above the Aylmer Thrift Store. Enter from Town Parking Lot.
ABOUT TEN THOUSAND VILLAGES:
Ten Thousand Villages is more than a store. It's a place where you can explore and connect with your global village.
From communities throughout the developing world, every inspired design is crafted with love using local materials (usually natural or recycled) and time-honoured skills by makers we have known and worked with for years.
Every purchase improves the lives of makers by supporting their craft and providing a fair, stable income.
We offer a way for you to become part of the story, to shop your values and give gifts with meaning.
Because this is bigger than us. https://www.tenthousandvillages.ca/