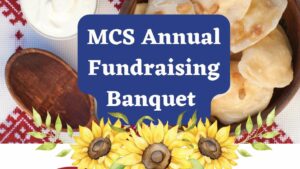 We explored the Mennonite connection to Ukraine over a delicious Ukranian/Mennonite meal!
Ukrainian Folk music was performed by world renowned Bandurist Victor Mishalow.
Victor has been associated with a variety of artists, and artistic groups such as the Tommy Tycho International Orchestra, the Toronto Symphony Orchestra and Orchestra Toronto, the Sydney Theatre Company, the Ukrainian Bandurist Chorus and numerous dance companies.
STAY TUNED FOR INFORMATION ABOUT NEXT YEARS BANQUET